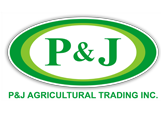 ABOUT US

P&J Agricultural Trading, Inc., is a Filipino-owned company engaged in the importation and distribution of Animal Nutrition Products, Veterinary Drugs, Biosecurity Products, Equipment and Instruments for Animal Husbandry. It has acquired the specialization in the direct selling of Artificial Insemination materials for cattle, goats, sheep and swine.

Since its modest beginnings in September of 1974, P&J has come to be trusted by both clients and suppliers, as it established itself one of the leading providers of Animal Health Care products in the Philippines.

With the steady growth of its operations, P&J has expanded to cover all of Luzon, Visayas and Mindanao. Its client base includes the biggest Poultry and Livestock Integrators, Commercial Farms, Cattle Ranches, Feed Millers, and Government Accounts.

P&J sources its products from reputable companies in Germany, UK, Italy, France, Spain, USA, China, Korea, Taiwan and Malaysia.

As it continues to enjoy complete client and supplier confidence, P&J Agricultural Trading, Inc. remains committed to exceed the requirements of the industry on quality products conforming to specifications, shipping promptness, and price competitiveness.